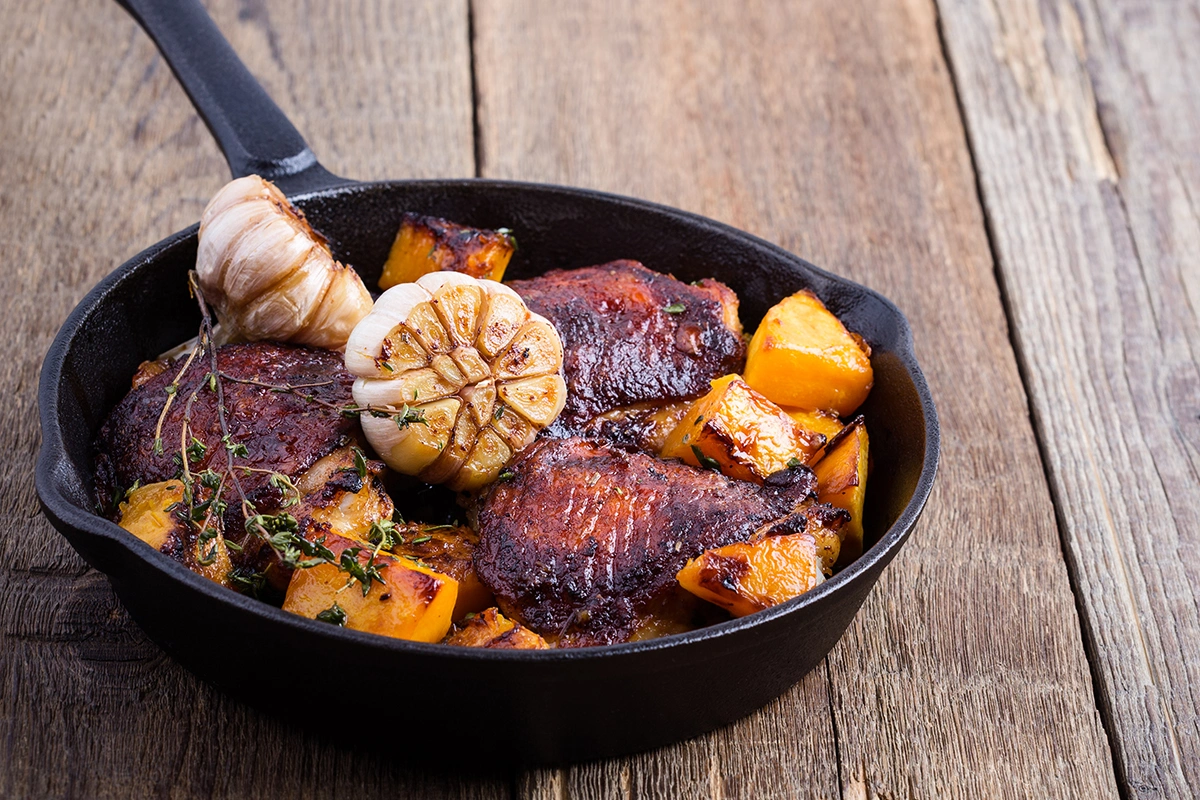 We hate to be the bearer of bad news, but this weekend (November 6, 2022) is Daylight Savings, meaning we "lose" an hour of daylight.
Most people agree, this is not the best part of fall. It's not exactly our favorite either.
But with less daylight and lower temps, many of us begin to crave things that provide comfort. Warm blankets, chunky knit sweaters, hot beverages, and warming stick-to-your-ribs meals. If that sounds like you, we have some great news.
This simple one-pan recipe will help you survive daylight savings. It's that good.
It comes together in just over half an hour, and dirties only one pan. Plus, it's a total crowd-pleaser. Kids and adults alike love this meal, making it a go-to recipe for weeknights.
What else do we love about it?
It's pretty darn healthy. Always nice when that happens.
It's inexpensive. Enough said.
Spiced Chicken Thighs with Sweet Potatoes and Apples
It's like fall in a dish.
Cinnamon, cumin, ginger, black pepper, and chili flake make up the spice mix and provide just the right amount of kick to warm you from the inside out. The balance of bright and tangy apples against the sweet, dense potatoes will leave you fully satisfied. Most starchy root vegetables work well in this dish if you don't have sweet potatoes on-hand: butternut squash, carrots, parsnips, and acorn squash to name a few.
While we prefer flavorful chicken thighs, you could also substitute chicken breast, pork chops, or even tofu to suit your protein preferences.
We hope you give this fall favorite a try.
Want to try this recipe? You can get it all at Farmstead!
At Farmstead, we're not just on a mission to beat the Daylight Savings blues, we also deliver incredibly fresh groceries straight to your door. We carry all of the ingredients for this recipe, and can have them over to you in as little as 1 hour. Click here to have everything you need to make Spiced Chicken Thighs with Sweet Potatoes & Apples magically added to your cart (you can adjust it on our site if you have preferred brands). Plus you can shop for anything else you might need and skip a trip to the store.