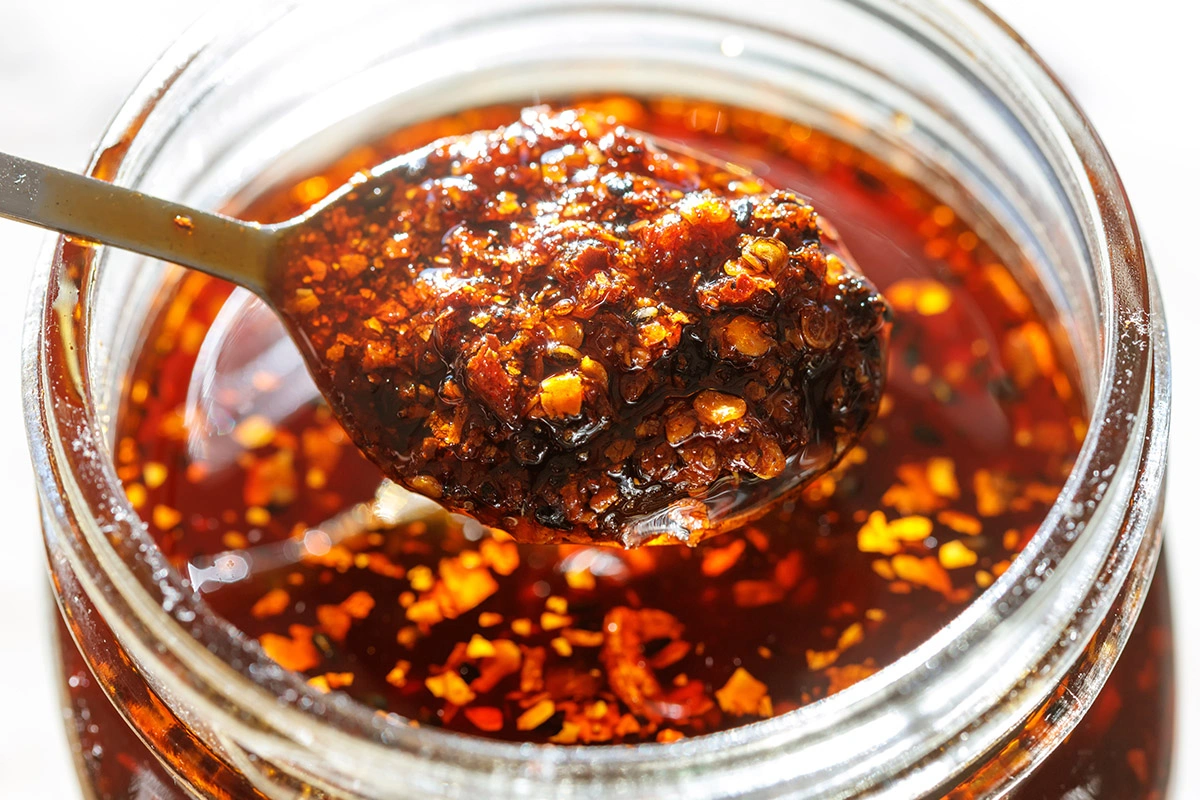 What is Chili Crisp Oil?
Chili crisp oil is a condiment that you're going to want to put on everything. Even desserts.
Essentially, it is an infused oil that is made from dried chili peppers, garlic, onion, ginger and sichaun peppercorns, along with spices like cinnamon, and star anise. The "crunch" can come from the lightly fried peppers, garlic and onions. Some blends of chili crisp also include fried edamame or peanuts for an even bigger crunch factor. The resulting oil is rich, salty, sweet, savory, and laden with umami that will have you craving it by the spoonful.
Chili crisp can be homemade, and there are many recipes out there, but if you don't have all day to make your own there are also a few great pre-made brands to choose from. The one we're currently crushing jars of is Fly by Jing Sichuan Chili Crisp.
What is the best way to use Chili Crisp Oil?
We've tried chili crisp oil in a lot of different configurations and learned a few things. You may have read that chili crisp goes well with everything—even ice cream!
We don't disagree.
Its robust, distinct flavors have a way of magically transforming bland, forgettable food into a positively crushable meal. And the ratio of heat-to-sweet is so perfectly balanced, it makes for the kind of kick that will keep you coming back for more. For all these reasons, we love combos where the chili crisp can take center stage. Out of the hundreds of ways we've enjoyed chili crisp oil, here are our top 5 most-loved.
1. Pizza with Chili Crisp
How is this not already a topping option at all pizza restaurants? Chili crisp offers the same salt and umami-packed goodness of parmesan cheese, but with even more depth of flavor. We're obsessed.
2. Avocado Toast with Chili Crisp Oil
Avo toast is another one of those shabby-chic meals that you can dress up or down depending on what you top it with. Enter chili crisp and a few crunchy red radishes and you've just created something magical.
We only wish we were the first to think of this. It's brilliant. It's a testament to the versatility of this condiment. Chili crisp and ice cream actually work.
But which flavor of ice cream?
Well, most people swear by a simple scoop of vanilla, but we've also found success with peanut butter, caramel, chocolate, and mango sorbet.
Shop Ice Cream at Farmstead >>
4. Baked Brie with Apples and Chili Crisp Oil
At first it might seem like an unlikely combo, but the warming spices in chili crisp are a perfect complement to the sweetness of apples, and the intense heat cuts through the gooey fat in brie. This one is a must-try.
5. Chili Crisp & Eggs
This one might be obvious, but it is arguably the most practical way to enjoy chili crisp: on eggs. Whether you like your eggs fried, scrambled, poached, or hard-boiled, chili crisp has proven time and again to be one of the most complementary condiments out there. Great news—if you're the type to skip breakfast, chili crisp might have you craving it in the morning.
We keep it really simple. Fry your egg in a little oil to your desired temperature, and add in fresh greens for the last 1-2 minutes and cover. Plate, add chili crisp, and enjoy a restaurant-worthy breakfast in as little as 5 minutes.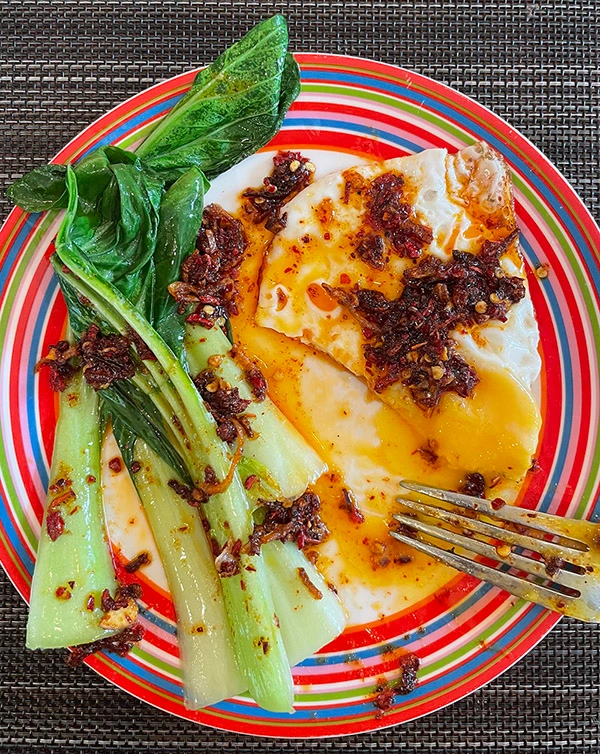 Shop Fresh Eggs at Farmstead >>
New Product: Fly By Jing Sichuan Chili Crisp Oil
We've recently started carrying Fly by Jing Sichuan Chili Crisp at Farmstead. If you're new to chili crisp, add a jar to your next order and be amazed.
If chili crisp is old hat for you, grab one anyway. It'd be a shame to run out.