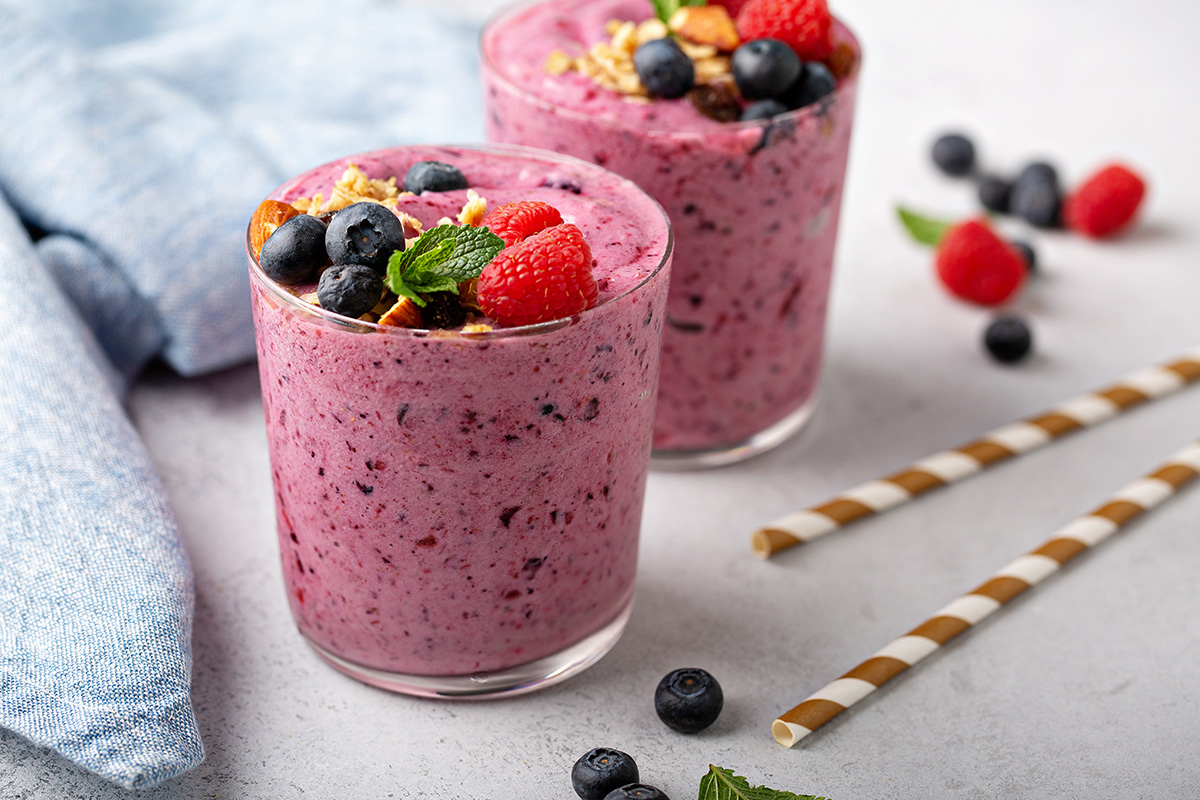 The key to making the perfect smoothie? Don't overthink. The finest smoothies are frequently made by improvising with what you already have.
This ubiquitous blended drink can have a surprising taste. Most smoothies are created with the same process, so they're something anyone can make. While there is no right or wrong approach to preparing a smoothie, you can explore these easy smoothie recipes to learn a couple of pointers for creating a nutritiously delicious smoothie.
8 Easy Smoothie recipes from fresh fruits
Strawberry Smoothie
Are you looking for fruit smoothie recipes? The list starts here. The strawberry banana smoothie is quick and easy to make, and it's the perfect nutritious breakfast! But even if you decide to make a smoothie on a hot afternoon, nothing beats a simple strawberry and banana smoothie. It's vegan-friendly and suitable for both adults and children.
Golden Mango Smoothie
This healthy mango smoothie is made with four incredibly basic ingredients and takes only minutes to prepare. The additional turmeric boosts the nutrient content and transforms the smoothie into a golden milkshake.
Peach Pie Smoothie Bowl
This smoothie bowl has all of the flavor of a peach pie a la mode but is lighter and more refreshing than a large slice of pie.
Chocolate Smoothie Bowl
This chocolate smoothie bowl has a silky texture, thanks to frozen bananas and yogurt and the high-protein content due to the inclusion of peanut butter.
Tropical Berry Smoothie Bowl
Healthy smoothie recipes are all over the internet, but this is worth trying. This smoothie bowl is topped with chia seeds, strawberries, raspberries, mango, almonds, and shaved coconut. It's basically a giant bowl of bliss that you don't want to finish.
Classic Green Smoothie
Green smoothie recipes are a fantastic way to introduce kids to greens. Green smoothies can be adaptable to anything you prefer to add or whatever you have on hand in your kitchen. The trick to having the perfect green smoothie is blending the liquids and greens until it becomes silky smooth, then adding the rest of your ingredients.
Spinach Avocado Smoothie
You'll adore this delicious spinach avocado smoothie, whether you have it for breakfast, a light lunch, or a post-workout snack. It's simply the best among simple smoothie recipes out there. It's wonderfully creamy, easy to make (just 5 minutes), and tastes like a milkshake!
Blueberry Green Smoothie
A crowd favorite among easy smoothie recipes is the blueberry green smoothie. You might wonder why we mix greens and blueberries but it's absolutely delicious! This is a no-fuss smoothie filled with ingredients that are pretty much left in the fridge. It is a great last-minute breakfast or even a meal replacement for lunch.
Blend it like you mean it
Everybody craves a smoothie from time to time. It's refreshing, uncomplicated, and healthy. Plus, the combinations are endless, so there's bound to be a delicious smoothie for everybody.
Smoothies are great diet or workout companions but that's not all they're good for. You can ask your toddler to help you out when you make a yummy smoothie and make it an educational yet fun bonding moment. And who says you and your friends can't have a smoothie-making party? It'd be a grand time. You can never go wrong with a smoothie!
Did you find something you like in our list of easy smoothie recipes? Order the ingredients with Farmstead App then go ahead and take that blender for a spin.