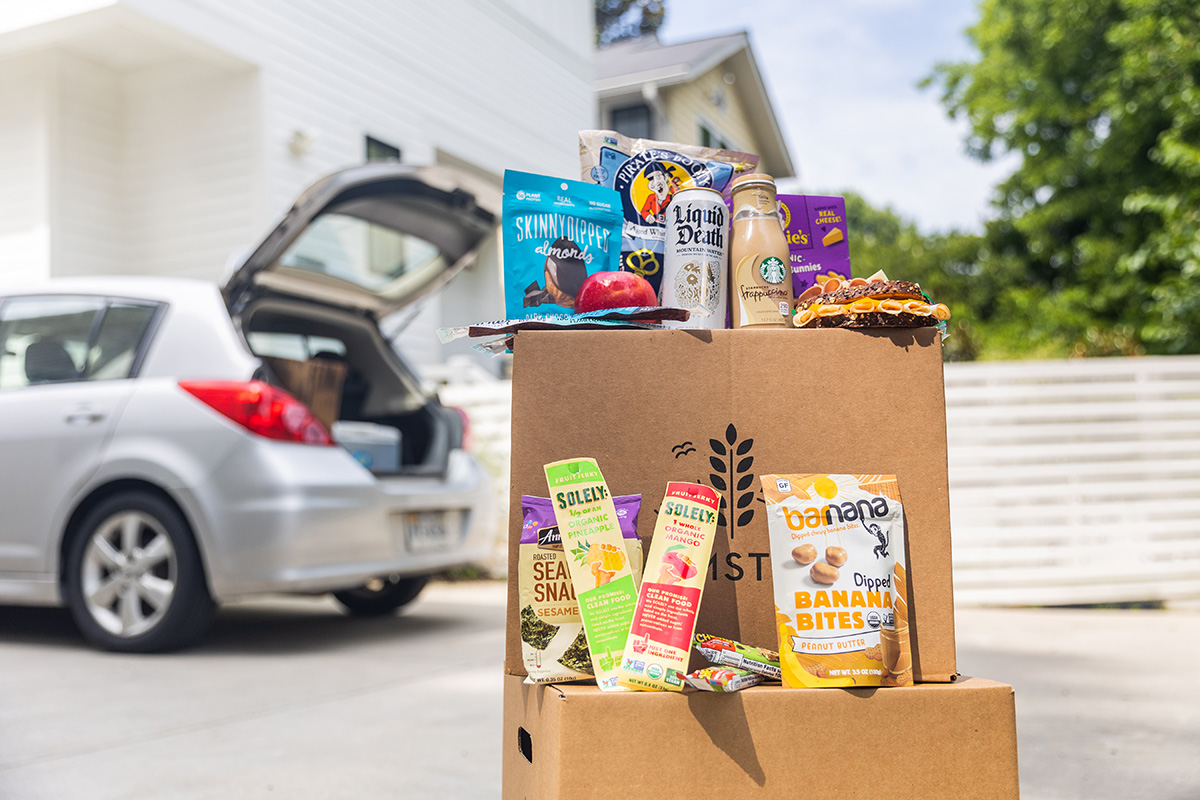 Happy first days of Summer 2022! Like many of us, you may be planning a cross country road trip this season. Let's make it an enjoyable trip! Here are our team's 7 tips for how to plan a road trip that you can roll with.
1. Don't Leave Good Food to Chance
Greasy fast food burgers and gas station junk food don't have to be your only options. Good food—especially healthy food—doesn't just happen on the road; you have to plan for it. Nourish and energize your body by bringing snacks that are healthy, and that you actually enjoy.
And by the way, we can help with that. Our aisles are stocked with products you'll want to reach for when you're putting on miles.
Some of our favorites include: Liquid Death Water, Cold Brew Coffee, Archer Jerky Sticks, Babybel Cheeses, Fresh Organic Bananas and Grapes, Abe's Vegan Blueberry Muffins, and Nori Seaweed Snacks. But with hundreds of options, you're sure to find just what you like. Have it all delivered to your door before you head out, and you'll have one less headache when packing.


2. Know Where to Go…
to the bathroom.
If you're riding solo, you might not think as much about stopping for bathroom breaks. But with kids in the car, potty emergencies can happen out of nowhere. Answering the call of nature on the road doesn't have to be a gross experience. Several great apps exist that will not only help you locate a bathroom nearby, but also show reviews and ratings given by actual users.
A few popular apps include:
We Can't Wait // iPhone or Android
Squat or Not by Charmin // iPhone only
3. Take Care of Puppers, too.
If you're traveling with your dog, you'll want to have the BringFido app downloaded for iPhone or Android. They'll help you find everything from dog parks to pet-friendly hotels. Your pup will thank you.
4. Download Your Playlists
So you made the coolest playlist ever and have your favorite true crime podcasts all queued up… but that 75 mile stretch through rural mountains says otherwise. Even in 2022, there are still plenty of places where your wireless service might fail. Be one of the smart ones and download your must-listens to your devices before rolling out.
5. See Cool Stuff.
Just because you have a final destination in mind doesn't mean you can't have a little fun along the way. Sometimes the most memorable experiences are made spontaneously. When you're at a rest stop, head over to your map app and look for "nearby attractions." We also love searching for nearby walking trails, overlooks, or antique malls. Not only will you get to stretch your legs, but you might happen upon a new favorite spot.
6. Beat Boredom with Games
If you're on a long road trip, there may come a breaking point where you're sick of tunes, tired of screens, and just plain bored. In this moment, don't forget about road trip games. (We should note that this does assume there is at least one other person in the vehicle with you.) Some of our favorites are: The Alphabet Game, The License Plate Game, Road Trip Bingo, I Spy, and Name that Tune. We also found this list of games that adults and kids can all enjoy. No assembly required.
7. Keep Your Car Looking Spiffy.
A clean car can make a road trip all the more enjoyable. Antibacterial wipes, paper towels, tissues, and trash bags all are a must. We've even seen a hack where people keep their cupholders clean by lining them with cupcake tin liners. So smart! Have we mentioned that we carry all of those products? Add them to your road trip snack order and you'll be good to go.
From the Farmstead team, we wish you safe travels, and a happy stay wherever you land!