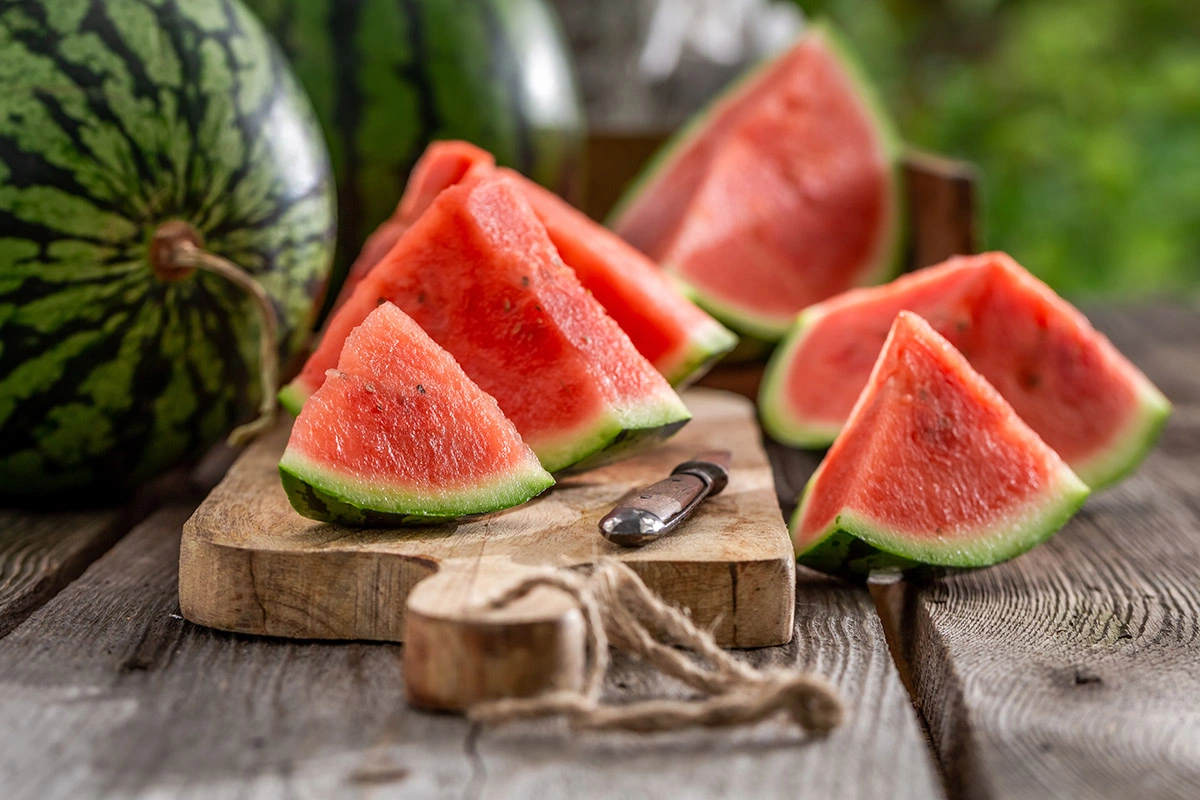 If there was ever a food that just screams "SUMMER," it would be watermelon. Yet there's a problem with watermelon that no one is talking about—but we here at Farmstead aren't afraid to say it.
They're huge.
The average weight of a watermelon is 12lbs, and larger melons can be over 20lbs! Sometimes it's a little much to commit to buying a whole watermelon, isn't it?
But fear not! Here are some interesting ways to utilize an enormous watermelon that may inspire you to give it a shot. So drop that giant watermelon into your Farmstead order (we'll even carry it up the stairs for you) and try one of these 4 easy summer watermelon recipes.
Creamy Watermelon Sorbet with Coconut Milk
The addition of full-fat coconut milk makes this watermelon sorbet creamy and decadent. Peak season watermelon gives this sorbet all the sweetness it needs, but you can add a little extra honey or sweetener of your choice to adjust as desired. Use this recipe when you grab a melon that is a little too mealy for your liking. When blended you'll never notice that texture.
Watermelon Jerky
Watermelon purists, rejoice! Watermelon jerky is your new best friend. Dehydrating watermelon concentrates the flavor of the fruit, and a little salt and pepper really kick it up a notch. This recipe results in a snack that is portable, has a long shelf life, and literally tastes like candy. You can try variations with other flavors like lime, chili, soy sauce, or teriyaki. We love this simple watermelon jerky best.
Watermelon jerky is best when made in a dehydrator, but can also be made in most air fryers. Please note that we do not recommend attempting watermelon jerky in your oven as it tends to not dry thoroughly.
Watermelon Pizza
Watermelon pizza is so fun and quick, it'll have you looking at fruit salads as a relic of the past. Best of all, you can customize yours anyway you like. Don't like coconut yogurt? Try Greek yogurt instead. Prefer mangos and raspberries? Use those! And if you're serving this at a party, why not try a watermelon pizza "bar" where guests can top their own slices?
Grilled Watermelon with Feta and Honey
Grilling fruit is one of the easiest ways to bring out the natural sweetness without adding a thing. A light sear on this watermelon helps develop caramelization and tastes incredible with a little tangy feta sprinkled on top.
Shop for fresh watermelon and all the ingredients to make these recipes at Farmstead. We're a fully online grocery store, delivering in just hours to your door. First time customers receive $30 off their first order of $70+ and a free gift!